---
Batmobile #4
---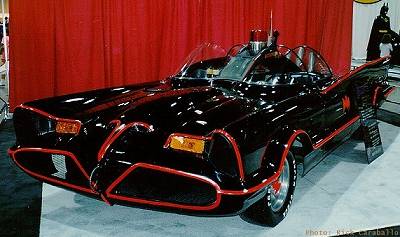 The #4 Batmobile is the exhibition drag race car that performed at drag strips around the country in the 60s and 70s. [Above Photo, Thanks to Rick Caraballo]

---
12/12/98: UPDATE! This #4 Batmobile was sold at auction today for $95,000!
It's new owner is Ralph Spencer, of Jacksonville, Florida. He is the Vice President of 'Mulch Manufacturing Inc.'
(See their website at http://www.mulchmfg.com).
He bought it so he could "pick up his son from school in it."! A complete restoration is also under consideration!

I'll have more info as it becomes available.
---



These shots may be of the #4 drag car shortly after being built. Note the clutch pedal and rubber-booted stick shift.
The third picture is an accidental triple exposure, but I've included it as you can still make out many details on the car, both interior and rear end.
Thanks to Mark Swain for these shots.
---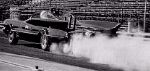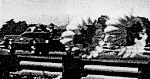 Here it is during it's performing heyday...at Irwindale Raceway. Sorry for the poor quality, but that's what ya get when you scan a photocopy!

---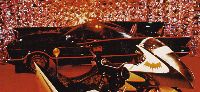 In 1984, George Helms III bought the car from a Chicago Museum. This picture is the #4 and BatCycle on display at the Guiness Museum in Gatlinburg, Tennessee years ago.The black and white picture is from a 1989 article about the car's 'retirement' due to the 'Batman' film release and new batmobile version.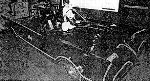 ---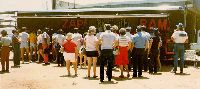 This somewhat obstructed view is of the #4 Batcar and BatCycle onboard their enclosed trailer as onlookers gawk and drool.

---
These pics were taken at the Car Collector's Hall of Fame in Nashville, Tennessee that has both this #4 Batmobile and a Batcycle on display today. Note the rear canopies each have 4 holes in the glass to prevent too much air pressure from building and ripping the glass off the car at high speed.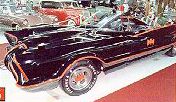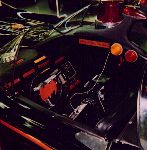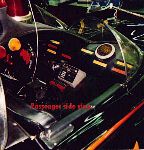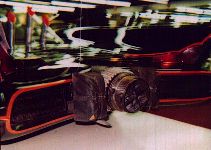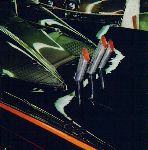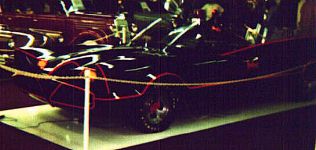 ---
Every photo in this next section was taken by James Alexander between approx. 1990 and 1995 or so.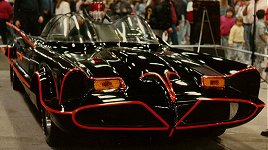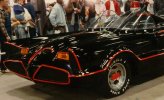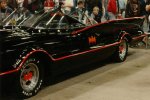 Click here to view the above two pics joined as one longer photo.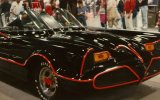 ---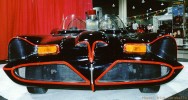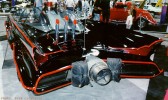 Here are two more great pictures of #4, taken by Rick Caraballo of North Carolina. Rick also supplied us with the beautiful shot at the top of this page...which if you look closely, you'll see that the black trim found on the glass edges is missing from the bubble in front of Robin's seat. Has it been replaced since.....?
---
Top of page