---
The Making of a Dream.
---
The Futura began as an idea of Bill Schmidt, chief stylist for Lincoln-Mercury from 1945-55.
It sprang, partly, from a 1952 encounter with a real, live shark while diving!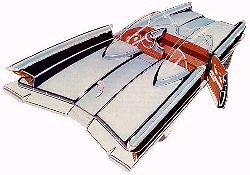 Here's one of the first concept drawings of the car, from 1952. Many more drawings and revisions were made before a 'finalized' look was ready.

---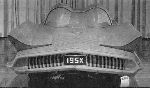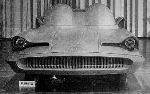 The artwork paved the way for the clay model makers to begin the task of making 'fancy' take flight. These pics were 'restricted' in their distribution as Ford didn't want other companies stealing their ideas for the car we'd all be driving in the future (oh, well...we got Hyundai's instead).
Note the front view's strong resemblance to a shark on the attack!

---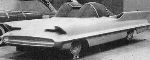 Here, a plaster version is ready for shipment to Italy where the metal body will be made.

---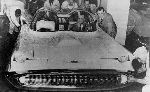 And here, soaked by rain, the Futura arrives back in the United States, as her caretakers guide her every motion.
She is ready to begin her reign of the Show Car world!

---
A 1/8 scale model of the 'Futura' is at the Henry Ford Museum in Dearborn, Michigan, encased in glass. It is possible that it is the original model used while actually building the Futura, since the museum is located about a mile from Ford World Headquarters.

---
---
Top of page