---
Other Bat-Vehicles
---
This area is to give a hint of the Caped Crusader's other modes of transportation. If you've got a picture or info of something not shown here...GIVE IT UP! It takes contributions from all of you to build this site.
Send your every thought to:
JohnRosa@javelinamx.com
---
1950s
---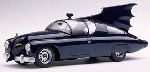 This is a model of the 1950s version of the Batmobile, seen only in comic book form, I believe.
---
1960s
---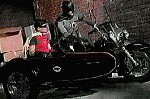 The FIRST 'BatCycle' seen in the TV series.
I'm told it appeared in the mid-first season in the episode, "The Penguin Goes Straight/Not Yet He Ain't".
Note how young Burt Ward seems in this pic.
---



One of the 1966 Film's Batcycles....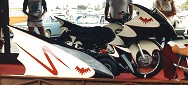 owned today by Scott Chinery.
---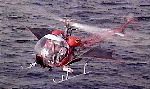 The BatCopter appeared in the 1966 film version along with....
---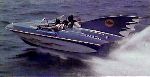 the BatBoat and...
---


the Bat-Surfboard?!?!?!
---




BatGirl needed wheels, too. Her motorcycle was purple!
Batgirl (aka Barbara Gordon) was played by the lucious Yvonne Craig, who's costume, like Catwoman's, bordered on the obscene (thankfully!).
---
1980s
---


A model of the 1980s comic book Batmobile.
---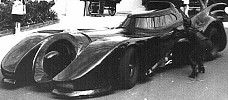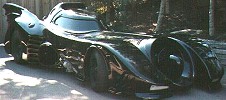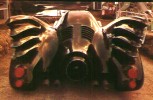 The 1989 'Batman' and 1992 'Batman Returns' films version, often called the 'Keaton car'
---
1990s
---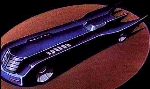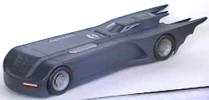 The Batmobile of the recent animated TV series. The second pic is of a toy based on this Batmobile.
---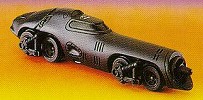 The BatMissile appeared in the 'Batman Returns' film, and isn't really a 'missle'. It's a narrowed version of the Batmobile created when the car throws off the extras to squeeze between obstacles.
---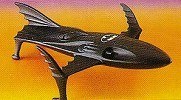 The BatSki also appeared in 'Batman Returns'. This may be the strangest Bat-vehicle of all, as it seems to have no real purpose outside of skimming thru sewers. You have to be rich to have such a specialized vehicle in your fleet..which Bruce Wayne is, of course!
---


The Penguin's 'Duck car' also appeared in 'Batman Returns'.
Possibly more useless than the Batski, I have to wonder what prescription medication abuse inspired this one!
---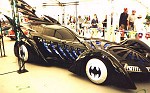 The 1995 'Batman: Forever' version, aka, the 'Kilmer car' "Chicks love the car" (22k WAV file)
---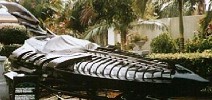 The 1995 'Batman: Forever' boat, used to very little advantage before it's destruction, by Robin (Chris O'Donell).
---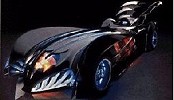 The 1997 'Batman and Robin' Batmobile roadster of George Clooney's Batman.
---
---
Top of page