---



Original Artwork Gallery

---
Back to Javelin Home Page
---
If you have something that you think belongs here, you know what to do! Contact me!


Send me your every thought!



JohnRosa@JavelinAMX.com

(Please note that all artwork marked as "TAG'96" is the exclusive property of myself, John W. Rosa, and may not be used in any way without my written permission.)

---
Here are some examples of AMC-related art including my own attempts at second-guessing where AMC might have gone next....

---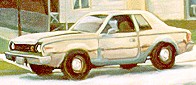 Javlynn Sue Leair did this painting of somebody's winter-beater Hornet back in '89 or so.

---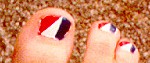 Here's what Javlynn Sue has been painting more recently. 'Dis lidoo piddy went to Kenosha.....'

---


One day I got an Email from a Gremlin fan and artist who wanted to combine his two loves into one. He asked me for a clean image of the little Gremlin character found on the fender of an AMC Gremlin, which I supplied.
Some time later, I received this photo. Believe it or not, this man makes TOAST, then 'scrapes and shapes' it into works of art! Weird, maybe, but accurate too! Note the attention to shading. Pass the marmalade!!!
---


Here's what a two-seater AMX might have looked like in '71 or '72 had AMC continued producing them....

---


And here's what a two-seater AMX did look like when AMC was planning for the '71.
Sadly, it never went into production.
---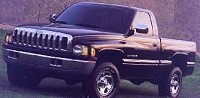 So what would we get if Chrysler hadn't killed off the Full-Size jeep pickups? Maybe something like this 1998 Jeep J200. Ok, it was just a thought.

---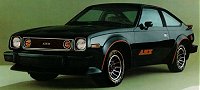 These should be simple modifications, and the second helps the Spirit mimick the 68-70 AMX's overall look. The Spirit already is very close in specifications to the first AMX version, and could be made a formidable competitor if a 390 or 401 were installed in place of the 6cylinder or 304 V8! It's one of the best 'unknown' supercar bargains around.

---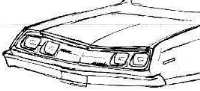 This sketch of a customized last-generation Matador was done by John Gallagher.
Note the use of 73/4 Javelin taillights and a Concord-ish/St.Regis-ish grille and headlamp area.

---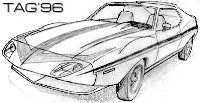 The death of the Rebel in 1971 left the name 'Machine' nowhere to go...unless to the 2door Matador. But if it were given to Javelin, Teague might have had the excuse to go CRAZY....!
(6/17/96) NOTE: This drawing has inspired one of my visitors, David K. Howington, to build a customized JavelinAMX based loosely on this design. This rework is known as Project: 'Raptor. Visit the 'Raptor's page!

---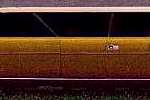 These rough photo-edits show the type of vehicle a wealthy AMC fan might be driven around in.
Of course, Javelin was built for the driver, not the passenger, so perhaps the chauffer is enjoying the TV.

---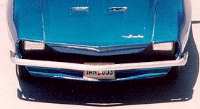 This one is my favorite...The 1975 Javelin AMX/TRA (TwinRamAir)....pronounced 'A.M.Extra'. New fender and hood extensions, rectangular head lights, air slots in the hood, '68 Charger-style side marker lights and a '69 Vette-styled bumper. The loss of grille area is made up for by a better fan design and a larger opening in the front valance area. The turn signals up front are in valance, like 71 and 72 Javelin. Some day, I'll build one of these! I swear it!!!

---


To compete with the mid-80s Mustang size 'muscle' cars, maybe a 1987 AMX might have looked like this(?)

---


Richard Teague meets Peter Max.......on Acid.

---


A Pro-Street Javelin AMX........Full-Tilt Performance.

---

,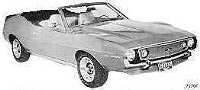 So, you like the wind in your hair (or across your scalp...). The only real SUNROOF!
---
Much more to come....

Top of page
Back to Javelin Home Page