---
AMC's Foreign Americans
---
Ahead to the Foreign AMCs Gallery!
Back to the Javelin Home Page
---
Just because the company was called 'American Motors', that doesn't mean you couldn't have a great AMC vehicle in other parts of the world! Some countries were able to get CKD cars (Crated Knock Down) shipped overseas for assembly there. CKD means the cars were shipped in 'kit' form to be assembled at a non-U.S. factory. Some of these countries are Australia, Mexico, Lebanon and Sweden! On this page, you'll find literature from foreign sales brochures, with many cool photos of familiar cars with a few minor....or MAJOR differences from what could be had here in the States.
PLEASE!, if you have any additional photos or info about anything on this page, don't hesitate to contact me! I'd love to share it with the world!
---
Australia's Right-Hand-Drive Ramblers
---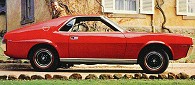 The first picture is of a 1970 Rambler AMX (assembled by AMI)
Note that I *DID* say 1970, even tho it looks like a 1969. This is due to the lengthy shipping time from the US to Australia as well as the time spent converting it to right-hand-drive at the plant on Cook Street in Port Melbourne. By the time the cars were ready, it was time for the next model year here in the USA!!
This is a 1970 Rambler Javelin, again, it appears to be a 1969 model, but isn't.
This is a specifications page for both above cars plus the Rebel Saloon and Wagon.
Note that all the cars are noted as coming with the 343cid V8. No mention is made of optional engines.

---
The Mexican Connection
---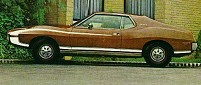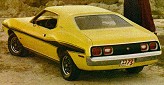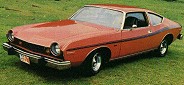 From a 1972 VAM brochure, a '72 Javelin.
One major difference these cars have over their US counterparts is that no V8 engines were in any of the VAM cars. For power, a Mexico-only 282 six made about 172HP. VAM cars were built from about 50% Mexican-made parts.

A page from the 1973 VAM brochure showing the '73 Javelin.

From the 1974 VAM brochure, showing the '74 Classic AMX.
Obviously, this is a re-named Matador coupe.
---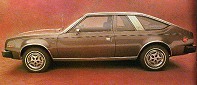 VAM's 'Lerma' 2-door
This a unique hybrid of the Hornet/Concord sedans and the Spirit rear section.

This is the Lerma 4-door version.
This one makes the Hornet/Concord influence more obvious.


More to come......;)
contact me at JohnRosa@JavelinAMX.com
Top of page
Ahead to the Foreign AMCs Gallery!
Back to the Javelin Home Page