---
AMC Toys and Collectibles

---
return to the Javelin Home Page
---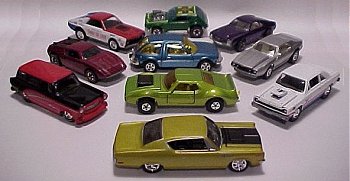 Here are a few of the AMC-related toys I've acquired and/or know of
I'm sure there are PLENTY more out there!
If you know of something not shown here...let me know!

NOTICE: None of the items shown here are for sale by me.
Most are discontinued long ago, but some are quite recent and may still be available.
You'll need to hunt them down yourself.
---
DIECAST METAL CARS -- ELECTRIC SLOT CARS
PLASTIC MODEL CARS -- OTHER TOY CARS
AMC-Related COMPUTER STUFF
---
Send me your every thought!



JohnRosa@JavelinAMX.com
---
Back to Javelin Home Page