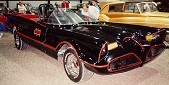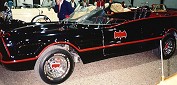 This is one HURTING car!! First, the back glass was never put on by Barris (why is unknown). Since being built, it seems the original front glass has been replaced by a poorly-made plexiglass copy.
Note the tailpipes and how close they are to each other. The afterburner is covered by an ugly grille. The foam blocks are falling out of the 'parachute' bags. It has a GREEN license plate, not black. The rocket tubes point in 3 different directions.
ARRGH!! How can the four Barris copies be SO different!?!? Check the shifter, guages, siren with PA mike, door trim, and lots of other junk tossed in there!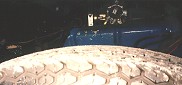 For you Die Hards out there, this dark, thru-the-fender-well picture hints at the engine inside!