First off, one thing I must say is this car looks amazingly good for a 10-year-old restoration. It gleams.
The black caps in the car's front grille actually protrude forward about an inch and a half. Looking under the car, it seems they are the original bumper mounts of the T-Bird donor car, disguised. This is a quick observation and may not be correct. I neglected to inspect the rear ones, but will do so on another visit.



The interior is still quite sharp, showing little wear and tear. The few obvious imperfections I noted are the cut Batphone cord, a missing interior door handle, and the parachute handle needed a repaint. Otherwise, you might think the car was only a year or two old.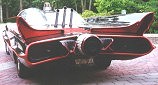 The rear view of this car shows some wildly exaggerated angles! The third shot is a close up of the turbine exhaust port, showing an orange coil deep inside that lights to give an orange glow.


This side view makes the car look bent in the middle, but that is due to the fact that's it's actually two pictures that I attached after scanning. The seam is just forward of the rear canopy.


The Batmobile returns to it's climate-controlled garage to await it's next public appearance.


In the same garage, between the Batmobile and a Hummer sits the BatCycle and sidecar- also still in excellent shape.